Faux Effects® Cottage Cabinets Class
At Epic Paint Company
Friday, June 28 2019 8:00am-5pm
Epic Paint Company
10670 Jones Road Houston, TX 77065
(281) 970-8400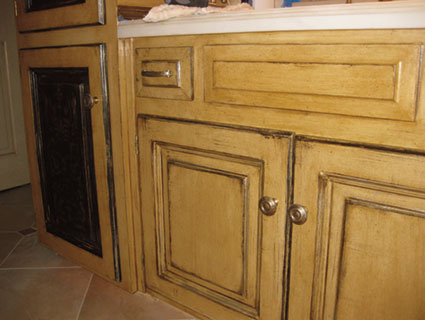 Shabby Chic is all grown up! This class shows how to create a more sophisticated classic cottage finish suitable for cabinets and furniture. Banish brushstrokes and dusty sanding. A variety of Faux Effects® products will be used to produce peel-back crackles, rub-backs, semi-opaque stains, and unique color layering. The 6 samples you produce on wood doors will have the feel and look of high-end oil finishes. This class includes written curriculum with step-by-step instructions and our easy reference product/job guide.
Your instructor is Rebecca Slaton, Classroom Instructor for FE Dallas. Rebecca is a recognized specialist with numerous commissions for residential and commercial projects. Her work has been featured in magazines, books and the Associated Press article "Born Again Cabinets," which was published in newspapers nationwide. She has created 16 cabinet classes and taught for over 20 years using the Faux Effects International product line for cabinets and furniture.
Class time is 8am-5pm with a 45-minute lunch break on your own. Class fee is $350. Deposit is $175 at registration, with the balance due 1 week before class date. Please call FE Dallas at 972-733-0028 to register and for more information—Rebecca is happy to talk with you about the class. Once registration is complete, a confirmation email will be sent.